---
Durable Gray Scale Step Tablets: HEBS Glass Transmission Mask



---
Part No. 15-30-100NA20000V
CMI transmission mask is an off the shelf item for use in the study of the dosage effect of light exposure on photosensitive materials. Tests on 100 dosage levels can be done in one exposure, using the transmission mask having 100 exposure cells.
Transmittance values and optical density values at 436nm and at 365nm of CMI standard transmission mask is listed below for each of the 100 exposure cells. Each exposure cell is a 3mm x 3mm area of light absorbing attenuator. The relative transmittance value outside the exposure cells is 100% at all wavelengths.
The transmittance and OD values of the exposure cells at any wavelength in the spectral range of 350 to 1100nm are available upon request.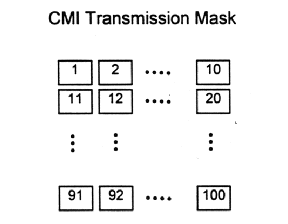 | | | | | | |
| --- | --- | --- | --- | --- | --- |
| I | %T-436 | T-436 | OD-436 | OD-365 | T-365 |
| 1 | 1 | 0.01 | 2 | 1.3123 | 0.04871918 |
| 2 | 1.5 | 0.015 | 1.823909 | 1.203211 | 0.06263088 |
| 3 | 2 | 0.02 | 1.69897 | 1.125812 | 0.07484936 |
| 4 | 2.5 | 0.025 | 1.60206 | 1.065776 | 0.08594564 |
| 5 | 3 | 0.03 | 1.522879 | 1.016723 | 0.0962225 |
| 6 | 3.5 | 0.035 | 1.455932 | 0.97525 | 0.10586445 |
| 7 | 4 | 0.04 | 1.39794 | 0.939324 | 0.11499426 |
| 8 | 4.5 | 0.045 | 1.346787 | 0.907635 | 0.1236987 |
| 9 | 5 | 0.05 | 1.30103 | 0.879288 | 0.13204195 |
| 10 | 5.5 | 0.055 | 1.259637 | 0.853645 | 0.14007308 |
| 11 | 6 | 0.06 | 1.221849 | 0.830235 | 0.14783072 |
| 12 | 6.5 | 0.065 | 1.187087 | 0.8087 | 0.15534591 |
| 13 | 7 | 0.07 | 1.154902 | 0.788762 | 0.16264407 |
| 14 | 7.5 | 0.075 | 1.124939 | 0.7702 | 0.16974635 |
| 15 | 8 | 0.08 | 1.09691 | 0.752836 | 0.17667058 |
| 16 | 8.5 | 0.085 | 1.070581 | 0.736525 | 0.18343197 |
| 17 | 9 | 0.09 | 1.045757 | 0.721147 | 0.19004359 |
| 18 | 9.5 | 0.095 | 1.022276 | 0.7066 | 0.19651684 |
| 19 | 10 | 0.1 | 1 | 0.6928 | 0.20286167 |
| 20 | 10.5 | 0.105 | 0.978811 | 0.679673 | 0.20908687 |
| 21 | 11 | 0.11 | 0.958607 | 0.667157 | 0.21520025 |
| 22 | 11.5 | 0.115 | 0.939302 | 0.655198 | 0.22120876 |
| 23 | 12 | 0.12 | 0.920819 | 0.643747 | 0.22711864 |
| 24 | 12.5 | 0.125 | 0.90309 | 0.632764 | 0.23293554 |
| 25 | 13 | 0.13 | 0.886057 | 0.622212 | 0.23866454 |
| 26 | 13.5 | 0.135 | 0.869666 | 0.612058 | 0.2443103 |
| 27 | 14 | 0.14 | 0.853872 | 0.602274 | 0.24987702 |
| 28 | 14.5 | 0.145 | 0.838632 | 0.592833 | 0.25536859 |
| 29 | 15 | 0.15 | 0.823909 | 0.583711 | 0.26078856 |
| 30 | 15.5 | 0.155 | 0.809668 | 0.57489 | 0.2661402 |
| 31 | 16 | 0.16 | 0.79588 | 0.566348 | 0.27142655 |
| 32 | 16.5 | 0.165 | 0.782516 | 0.558069 | 0.2766504 |
| 33 | 17 | 0.17 | 0.769551 | 0.550037 | 0.28181435 |
| 34 | 17.5 | 0.175 | 0.756962 | 0.542238 | 0.28692083 |
| 35 | 18 | 0.18 | 0.744727 | 0.534659 | 0.29197208 |
| 36 | 18.5 | 0.185 | 0.732828 | 0.527287 | 0.29697021 |
| 37 | 19 | 0.19 | 0.721246 | 0.520112 | 0.3019172 |
| 38 | 19.5 | 0.195 | 0.709965 | 0.513124 | 0.3068149 |
| 39 | 20 | 0.2 | 0.69897 | 0.506312 | 0.31166503 |
| 40 | 21 | 0.21 | 0.677781 | 0.493185 | 0.32122908 |
| 41 | 22 | 0.22 | 0.657577 | 0.480669 | 0.33062132 |
| 42 | 23 | 0.23 | 0.638272 | 0.46871 | 0.33985244 |
| 43 | 24 | 0.24 | 0.619789 | 0.457259 | 0.34893205 |
| 44 | 25 | 0.25 | 0.60206 | 0.446276 | 0.3578688 |
| 45 | 26 | 0.26 | 0.585027 | 0.435724 | 0.36667052 |
| 46 | 27 | 0.27 | 0.568636 | 0.42557 | 0.37534432 |
| 47 | 28 | 0.28 | 0.552842 | 0.415786 | 0.38389672 |
| 48 | 29 | 0.29 | 0.537602 | 0.406344 | 0.39233365 |
| 49 | 30 | 0.3 | 0.522879 | 0.397223 | 0.40066058 |
| 50 | 31 | 0.31 | 0.508638 | 0.388401 | 0.40888254 |
| 51 | 32 | 0.32 | 0.49485 | 0.37986 | 0.41700418 |
| 52 | 33 | 0.33 | 0.481486 | 0.371581 | 0.4250298 |
| 53 | 34 | 0.34 | 0.468521 | 0.363549 | 0.4329634 |
| 54 | 35 | 0.35 | 0.455932 | 0.35575 | 0.4408087 |
| 55 | 36 | 0.36 | 0.443697 | 0.348171 | 0.44856915 |
| 56 | 37 | 0.37 | 0.431798 | 0.340799 | 0.45624799 |
| 57 | 38 | 0.38 | 0.420216 | 0.333624 | 0.46384827 |
| 58 | 39 | 0.39 | 0.408935 | 0.326635 | 0.47137281 |
| 59 | 40 | 0.4 | 0.39794 | 0.319824 | 0.47882428 |
| 60 | 41 | 0.41 | 0.387216 | 0.31318 | 0.4862052 |
| 61 | 42 | 0.42 | 0.376751 | 0.306697 | 0.49351793 |
| 62 | 43 | 0.43 | 0.366532 | 0.300366 | 0.5007647 |
| 63 | 44 | 0.44 | 0.356547 | 0.294181 | 0.50794762 |
| 64 | 45 | 0.45 | 0.346787 | 0.288135 | 0.51506869 |
| 65 | 46 | 0.46 | 0.337242 | 0.282222 | 0.5221298 |
| 66 | 47 | 0.47 | 0.327902 | 0.276435 | 0.52913273 |
| 67 | 48 | 0.48 | 0.318759 | 0.270771 | 0.53607919 |
| 68 | 49 | 0.49 | 0.309804 | 0.265224 | 0.5429708 |
| 69 | 50 | 0.5 | 0.30103 | 0.259788 | 0.54980909 |
| 70 | 51 | 0.51 | 0.29243 | 0.25446 | 0.55659554 |
| 71 | 52 | 0.52 | 0.283997 | 0.249236 | 0.56333155 |
| 72 | 53 | 0.53 | 0.275724 | 0.244111 | 0.57001843 |
| 73 | 54 | 0.54 | 0.267606 | 0.239082 | 0.57665749 |
| 74 | 55 | 0.55 | 0.259637 | 0.234145 | 0.58324992 |
| 75 | 56 | 0.56 | 0.251812 | 0.229298 | 0.5897969 |
| 76 | 57 | 0.57 | 0.244125 | 0.224536 | 0.59629954 |
| 77 | 58 | 0.58 | 0.236572 | 0.219856 | 0.60275891 |
| 78 | 59 | 0.59 | 0.229148 | 0.215257 | 0.60917605 |
| 79 | 60 | 0.6 | 0.221849 | 0.210735 | 0.61555193 |
| 80 | 61 | 0.61 | 0.21467 | 0.206288 | 0.62188751 |
| 81 | 62 | 0.62 | 0.207608 | 0.201913 | 0.62818368 |
| 82 | 63 | 0.63 | 0.200659 | 0.197609 | 0.63444134 |
| 83 | 64 | 0.64 | 0.19382 | 0.193372 | 0.6406613 |
| 84 | 65 | 0.65 | 0.187087 | 0.1892 | 0.6468444 |
| 85 | 66 | 0.66 | 0.180456 | 0.185093 | 0.65299141 |
| 86 | 67 | 0.67 | 0.173925 | 0.181047 | 0.65910308 |
| 87 | 68 | 0.68 | 0.167491 | 0.177061 | 0.66518014 |
| 88 | 69 | 0.69 | 0.161151 | 0.173133 | 0.67122328 |
| 89 | 70 | 0.7 | 0.154902 | 0.169262 | 0.67723319 |
| 90 | 71 | 0.71 | 0.148742 | 0.165445 | 0.68321052 |
| 91 | 72 | 0.72 | 0.142668 | 0.161683 | 0.6891559 |
| 92 | 73 | 0.73 | 0.136677 | 0.157971 | 0.69506995 |
| 93 | 74 | 0.74 | 0.130768 | 0.154311 | 0.70095324 |
| 94 | 75 | 0.75 | 0.124939 | 0.1507 | 0.70680637 |
| 95 | 76 | 0.76 | 0.119186 | 0.147136 | 0.71262987 |
| 96 | 77 | 0.77 | 0.113509 | 0.143619 | 0.71842428 |
| 97 | 78 | 0.78 | 0.107905 | 0.140147 | 0.72419014 |
| 98 | 79 | 0.79 | 0.102373 | 0.13672 | 0.72992793 |
| 99 | 80 | 0.8 | 0.09691 | 0.133336 | 0.73563816 |
| 100 | 81 | 0.81 | 0.091515 | 0.129994 | 0.74132128 |